"I always wanted to spend as much time with my daughter as possible and do various activities together. Choosing a mother-daughter day at the Plaza Hair Salon was one of the best choices ever."

Hilda O.
I have heard many of my friends saying that they would never take their daughters with them at the salon because it's their free time and kids would get bored easily. I have a different opinion. A mother-daughter day at Plaza Hair Salon can be relaxing and fun at the same time if you take into consideration some tips.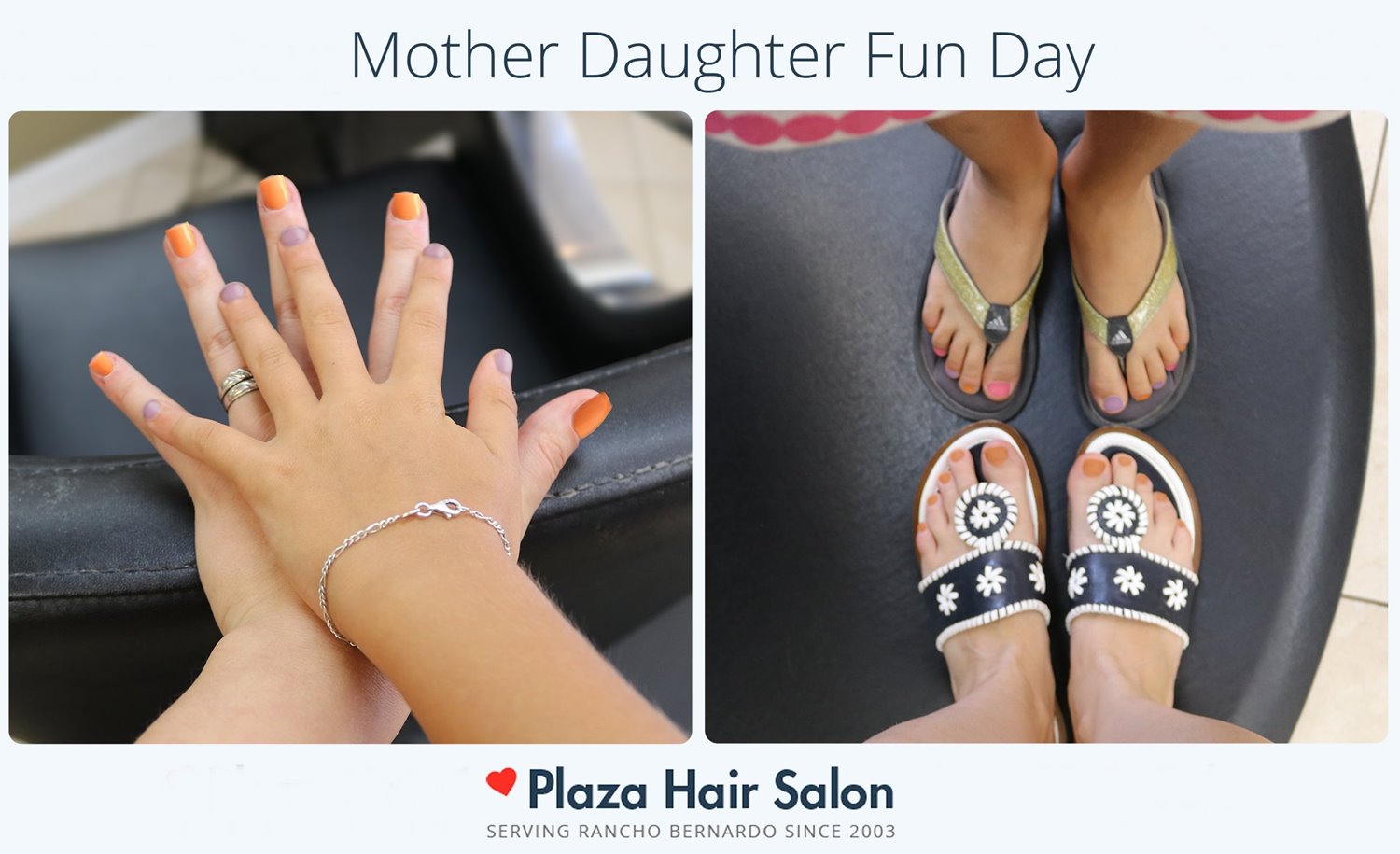 Tips and Tricks for a Successful Mother-Daughter Day at the Salon
If it's your daughter's first manicure or pedicure, make sure you choose a kid-friendly salon. Plaza Hair Salon is one of the salons that welcome youngsters with open arms. So you can rest assured that your appointment will be a success from this point of view and that your daughter will feel as if she is among friends.
You should also pay attention to timing. If your daughter still takes naps, don't make an appointment right before her nap time. You do not want a cranky spa partner. So book your mother-daughter manicure when you know that she is the cheeriest and when she is not tired.
Kids usually fear what they do not know so your daughter might not like a stranger using sharp and unfamiliar tools on her fingers or toes. At Plaza Hair Salon the nail technicians do not push cuticles back or apply scrubs to tender feet for children. They just apply a non-toxic, quick-drying, water-based polish and trim and shape the nail only if it's necessary.
Although you are looking forward to your first mother-daughter at the salon for a bonding experience, make sure she is ready for the adventure too.  It depends on your child and not her age. Talk to her first and see how she feels about the idea. Try to first have such an experience at home first to make sure that she has the patience to sit through the whole process.
Plaza Hair Salon is the best place for your mother-daughter nail day. The nail technicians are friendly, experienced and they use only properly sanitized equipment, as well as chemical-free products for children. So if you want to get a manicure or pedicure, but also spend time with your daughter, you can do them both at Plaza Hair Salon.
Your little girl will be a teenager before you know it and it will not be a thrill for her to follow you everywhere. With such a hectic schedule of a modern family, it's hard sometimes to bond with your child as much as you would want to. So why not take advantage of this opportunity. Why pay a babysitter to stay with your daughter when you can take her with you and spend some quality time together?
Pay us a visit to Plaza Hair Salon and we'll make sure you and your daughter have the best time together. Call 858.485.7551 or e-mail us at appointment@plazahairsalon.com for your appointment. We also welcome walk-ins!