"Plaza Hair Salon, you've done it again; my confidence levels are off the charts! I'm super excited to show off my bold new look. "

Hilda O.
Getting a new look adds a whole new level of excitement to your style and demeanor. A fresh haircut or a bold hair color choice directly impacts your confidence level and is guaranteed to make you feel good about yourself. A significant part of individual expression is carried out through appearance, and people often opt for dyeing their hair in a bright, fun color for this very reason. If you are still deciding whether to adopt such a dramatic hair change, here are some excellent reasons why you should give it a try. Plaza Hair Salon's bold hair color inspiration for this season is vibrant Pink.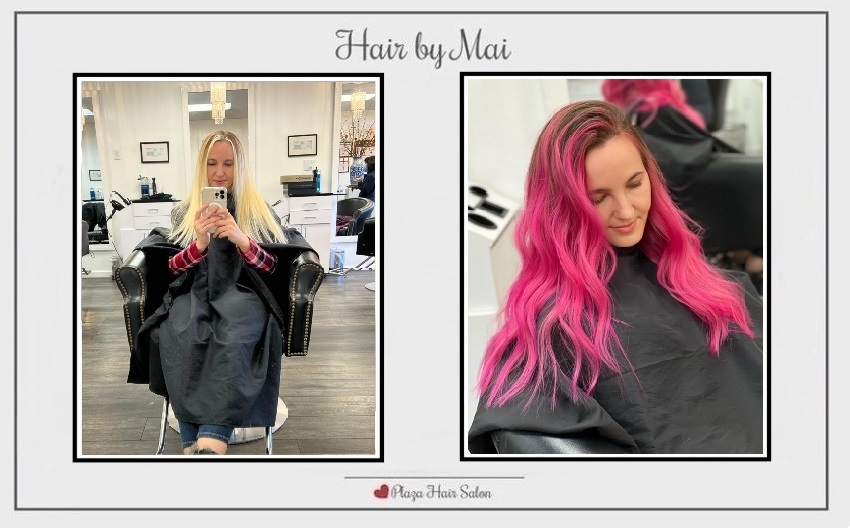 Reasons for Dyeing Your Hair Pink
Each color has a different impact on our daily feelings and behaviors, and Pink is one strong mood enhancer, often associated with playfulness, healing, love, or warmth.
The bolder the pink, the more lively and exciting the effects. Embracing a pink hair color makes a powerful statement of limitless self-love and the love of others. If you haven't decided yet, here are some reasons why adopting a pink hair color might be a good idea for you:
You can find out more about your preferences – unless you try something new, you'll never know the limits of what you might like. Maybe bright hair colors suit you best, and such a choice might surprise you for the better. You can discuss with your hairstylist if the color is right for you and how it can be incorporated into your overall appearance without taking it too far if you want to try something more subtle.
A better way of expressing yourself – it's encouraging to give yourself a more creative or bold look that can perfectly complement who you are on the inside. Going to a skilled hairstylist can help you find the color that speaks to you best so you can carry out the change in a professional setting and with the best results.
A boost of confidence - a bold new hair color can say a lot about your personality: that you're not afraid to try new things and that you're confident enough and feel amazing in your skin no matter the wild color tone you choose to wear out and about.
Standing out from the crowd – if you get a kick out of receiving compliments, then vibrant hair colors are the way to go, proving to the world that you are not afraid of standing out.
Try Out Pink Hair Color at Plaza Hair Salon
At Plaza Hair Salon, we have a great range of pink color shades for different hairstyles - Balayage, Ombre, or Sombre - so our clients can choose their favorite one and get a breathtaking hairstyle with smooth transitions.
Due to the brightness of the color pink and its numerous shades, the mere sight of it can be an instant mood enhancer, and Plaza Hair Salon can transform your hair into a daring head-turner. Not to mention the fact that you naturally get a very nice change of style after the pink shade fades away, revealing the blonde base of your hair and making it, yet again, absolutely stunning. More pink hairstyle inspiration for you to try: