"Our hairstylists are here to help you choose the right hairstyle that will suit your hair type, length, and texture."

Mai
Every man wants to look neat in a professional environment, and just like an elegant suit, a stylish hairstyle can make all the difference. The rules of the business hairstyle were once strict, but nowadays, things are more flexible.
The following business hairstyles are perfect for those who want to make a statement with their look. They are neat and easy to maintain. Most of these haircuts are suitable for all face shapes.
Here are our clients' top choices that will impress on any business meeting.
Top 3 business hairstyles for men in their 20-30s
The military-inspired buzz cut is short, neat, and sharp. It gives you a confident look, perfect for challenging business meetings. The buzz cut is a low-maintenance hairstyle that can be styled to suit any occasion. The length of your buzz cut can vary depending on your face shape.
If you want your long or medium hair to look professional, one of the best options is a sleek man bun. It is a versatile hairstyle that can be styled for any occasion. It keeps your hair out of your face while creating an edgy and stylish look.
The sleek hard part is a classic for businessmen of all ages. To update it for 2023, our hairstylists combine it with an edgy taper fade. Neat and sophisticated, it's one of our clients' most popular hairstyles.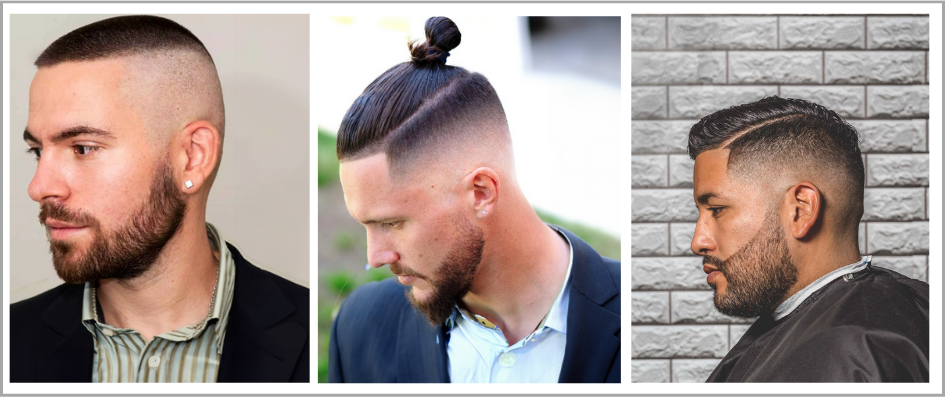 Top 3 business hairstyles for men in their 30-40s 
The classic quiff has been on top of the list since the 1950s for a reason and it still looks as stylish in 2023 as it did back then. We use high-shine products to create the glossy effect that is the signature of this haircut. It's another low-maintenance, versatile hairstyle suitable for any occasion. It is appropriate for men of all ages, and we are sure it will always stay in style. For a modern businessman look, combine it with a hard part cut.
The crew cut is another ideal option for professionals with a hectic lifestyle. It's short, sharp, and low-maintenance, requiring minimal styling to look neat. It has a classic appeal and perfectly complements elegant suits.
The Ivy league hairstyle is very popular in the business world as it gives a confident and assertive vibe. It's a sleek and cool haircut that has been around for decades and is still incredibly appealing for gents of all ages.
Top 3 business hairstyles for men in their 40-50s 
A classic side part is one of the most trendy hairstyles for men seeking an elegant and professional look. It is a low-maintenance haircut that can be easily styled, whether straight, wavy, or curly while remaining conservative enough to suit any professional setting.
One of the coolest and most versatile haircuts is the hard part that can be combined with other hairstyles - pompadour, quiff, or fade -depending on what look you prefer - more traditional or something modern and bold. It can be short, wavy, asymmetrical or high and tight.
Another traditional haircut for businessmen is the comb over. This sophisticated hairstyle will definitely add a touch of class to your style. It looks great with a clean-shaven face or with a groomed beard. The neat and classy comb over is appropriate for any work environment.
Top 3 business hairstyles for 50+ men
An excellent choice for mature men with medium-length hair is the comb back. This hairstyle has a polished, classy feel.
The slick back was the stockbrokers' signature look on Wall Street in the 1980s, and it's still trending in 2023. This timeless hairstyle will give you a cool Old School look that will surely impress. If you want a stylish and classy look, this is your go-to hairstyle.
Pompadour is another classic hairstyle for middle-aged or senior business owners. Confident businessmen especially prefer it due to its charismatic appearance. This iconic hairstyle is suitable for men of all ages.
Get your business haircut at Plaza Hair Salon
There are several factors a man needs to consider when choosing a haircut, including the type, texture, and density of his hair, as well as the shape of his face and the style he wants. Most of our clients want to have a versatile haircut that can be styled for casual activities and for the workplace environment.