"If only I could write down all the professional advice my stylist gives me here, at Plaza Hair Salon! She knows my preferences but always comes with something new, to keep my style fresh and charming."

Tiffany A.
Yes, you look great, you have amazing eyes, sensual cheekbones and a wide, serene forehead, but all of these can go unnoticed without the right hairstyle. Likewise, if there are specific facial features that you are not totally happy about and you'd like to minimize or soften, your haircut can do magic!
Everybody tells you that there are perfect hairstyles for each face shape, but this is only the beginning of your quest for the most flattering hairstyle. So, take a look in the mirror, and decide for yourself: is your face round, square, heart-shaped, or rather triangular? Then take your time to study every detail that captures your attention, because there are a lot more shapes within your facial frame that can help you find the best haircut and style: the shape of your nose and ears, the length of your neck, the broadness of your chin, or simply a dark spot that bothers you. Combine your findings with your personal preferences (maybe you just hate short hair), lifestyle (relaxed or sophisticated) and habits (you need you hair long enough to tie a ponytail, because you go jogging daily), and you'll be closer than ever to the perfect hairstyle.
Just to get you going, here are a few tips: for round faces, middle parts create the illusion of narrowness and so do side swept bangs. Solid bangs are also an acceptable choice but only when your hairstyle is high on top. Avoid chin-length haircuts and hair volume on the sides.
If your face is oval, you're the lucky one! Wear your hair as you please and feel free to experiment on styles and cuts. But if you possess a strong jaw line with little roundness to the chin, then you might fall into the square face shape category. In which case, the best hairstyle for you would be an angled bob with bangs swept over to one side to create diagonal movement and a rounded appearance. If you prefer your hair longer, then romantic waves that touch your cheeks and face-framing layers will soften your face shape.
If you have a heart-shaped face (wide forehead and delicate chin), you should avoid short and full haircuts that add width to your upper face and go for a middle part that creates vertical length. If your face is rather triangular, soften your prominent jaw line with a layered hairstyle.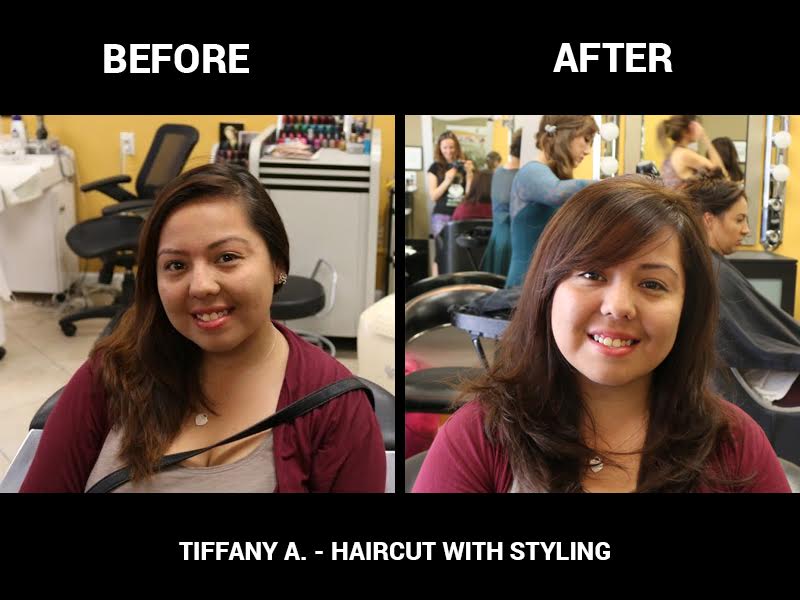 As for all the other details, remember: waves and curls add softness to your features, whether it's a prominent nose or a pointed chin. For a long neck, wear hairstyles that end at the neck and look fuller on the sides to draw the attention horizontally.
For a great haircut that totally matches your facial features and your personality, come to Plaza Hair Salon. Our stylists are passionate about creating the perfect hairstyle that brings out your natural beauty.
Call 858.485.7551 or e-mail us at appointment@plazahairsalon.com for your appointment.