"I came to see Mai for a full color and some trimming on my bob. This is the best hair color I have ever had and I've been getting compliments everywhere I go. It's so flattering!"

Sandy W.
Ah, the bob, the haircut of choice for brazen females of the past! Whether we are talking about the classic bob or a more mussed-up longer bob (or lob, as some call it), this hairstyle is decidedly timeless. From Coco Chanel to Louise Brooks and Elizabeth Taylor, the bob has been an inspiration to many women.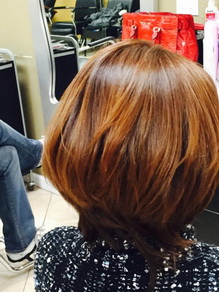 The graduated bob is typically the same thing as an A-line, except it has stacked layers in the back. The amount of stacking can vary, some customers ask for a very low stack and others prefer the layers in the back very short so that they can spike the hair.
Sandy has a low graduation bob with disconnection, which perfectly frames her face and puts emphasis on her eyes. We also used full color on her hair, which has immediately refined her look. The color is stunning and Sandy looks very charming! However, bobs are quite high maintenance, so before you decide to get the cut, make sure you will be committed to keeping it in shape. Graduated bobs tend to grow out of shape fairly quickly around the back of the neck area. You will need trimming at least every 5-6 weeks!
Bring out the best in yourself at Plaza Hair Salon! Call 858.485.7551 or e-mail us at appointment@plazahairsalon.com for your appointment. Walk-ins are always welcome too!