"I just wanted to add some blonde shining on my head to freshen up my brown days. The result? I simply fell in love with my new look! "

Carrie-Anne M.
There is no hair color more seasonal favorite than blonde balayage. These summer-inspired hues remind us of the most pleasant time of the year. Such an idea is good for women who like a bold transition from dark-brown to lighter hues. A subtle hint of an A-line bob is something to reckon with.
What's better than a ravishing blonde balayage wavy bob? If you want a look that's chic and light, this hairstyle is a great choice.
Impress Everyone Around with Your Blonde Balayage
There is a myriad of blonde shades; there are certain shades of blonde that can either soften or strengthen your facial features and skin tone.
If you're itching to switch up your hair color and want a style with staying power, go with warm golden shades, and a sun-kissed vibe a la Cameron Diaz. This is a nice option for anyone looking to try out life as a blonde or brighten up a chestnut brown.
Tip jar idea from our hairstylists: Put a twist on short hair with blonde balayage by adding loose curls with a messy, beachy vibe. The undulating blonde highlights give the appearance of multidimensional look that just screams volume and texture. At Plaza Hair Salon, everything we do, we do with love and responsibility.
If you're curious in what's in it for you, check out these benefits of getting blonde balayage:
Needs very little attention in terms of touch-ups
It offers a healthy, natural-looking
Is a trendy style particularly popular amongst celebrities
How About a Romance with Sunlight?
Ask your colorist to use highlights to accentuate your gentle romantic appearance. The brightest highlights should be focused on the face frame, the natural part of the hair, and the ends. Then there should be obvious strands of the darker base color running throughout for dimension and contrast.
A simple blonde balayage that reflects your dreamy side could bring out your best look. Try it now at Plaza Hair Salon.
Hair by Mai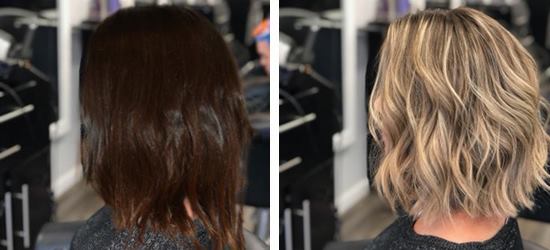 Dark Brown to Blonde Balayage
---