"I took a deep breath and looked myself in the mirror. This light blonde balayage is very sensual and appealing! My boyfriend especially loves it; he is probably more excited about it than I am!"

Vivien S.
Blonde balayage whether dark or light, seems to be very popular this season. If you have copper-colored hair but want to give it a pretty pop of color, this light blonde balayage is very stylish. For a youthful look, you can opt for a balayage with extremely light dye.
Thought a little more outgoing than most, this balayage is mesmerizing with different shades of light blonde blended together in smooth strokes. Moreover, this look is really stunning on women with naturally wavy tresses.
Balayage Rays of Light for a Delicious Summer
Blonde is a classic for a very good reason: it works on almost all skin tones, warm or cool, depending on which shade of blonde you're asking for. The balayage technique works well for blonde highlights and it's a better choice than foils because it's painted in.
Tip from the professional hairstylist at Plaza Hair Salon: Dare to go light this season - highlight your face with a light blond balayage and frame it with soft flowy waves for a natural-looking effect and long-lasting impression.
The main benefits of light blonde balayage
A great way to lighten up your darker tresses and to show off your sassy side
This light blonde balayage is warm, breezy, carefree, and optimistic
It's a great choice because it grows out beautifully and you don't have to worry about your dark roots showing
Light blonde looks fabulous on medium/olive/gold-toned and with any eye color but particularly striking with blue or brown eyes
Requires little to no maintenance
Works for all ages, hair textures and lengths
Turn Some Heads Around with Your Stunning Light Blonde Balayage
With this style, your hair starts with copper-colored roots and gradually fades into lighter shades of blonde. Ask our hairstylist to throw in lighter shades of soft blonde atop your reddish-brown roots and you'll have a multidimensional look that just screams volume and texture.  Even though the tones are different, the colors can blend together to still complement one another.
When it comes to getting a great light blonde balayage, it's best to leave the job to a professional at Plaza Hair Salon.
Hair by Mai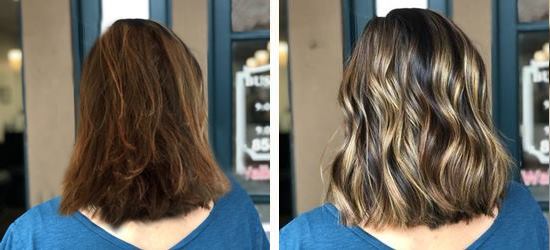 Copper to Light Blonde Balayage
---